I'm very excited about this post. I love talking about underthings! Because I believe in the power of underthings. The articles of clothing that people don't see have the power to transform us into secret super heroes. And we all know how fond superheroes are of showing off their underwear by wearing it over their outfits (here's why, by the way; and here's a better why).
Not everyone cares about underthings; some just want them to disappear on their bodies, and some opt out of them altogether. Whether underthings really matter to a person, either as functional/foundational elements or aesthetically pleasing outfits in and of themselves, is a matter of personal preference. But for me personally, I see underwear as a piece of personal expression that nobody else (or a very select audience!) will witness. I mean, the first masculine clothing I bought was boxer briefs. My first racy bra was something nobody else saw because I was a virgin at the time, but I felt so awesome in it! My fraught relationship with my body is sometimes at its best when I'm wearing nothing but underwear; there's no "work-appropriate" or "flattering", there's just me and my body. And lately, I've been experiencing a need to shake stuff up, and not just to bind my chest flat but to wear it proudly.
I'm all over the gender spectrum, but when it comes to undergarments, there is something super awesome about lingerie shopping. For one, many lingerie websites (especially gender-inclusive ones) are starting to include larger models, making for a more accurate (and empowering) shopping experience. When curvy models appear for a special line of "curvy" clothing for some website or another, it's like they're throwing women a bone… a curvy bone… wrapped in drapey, ill-fitting smocks. With lingerie, there is no hiding the body behind a black frumpy t-shit–which I mean, how long did it take them to design that?! 3 minutes? Some designer deserves the "biggest slacker" prize for that one. (This used to be my beef with ASOS, but it looks like they have a decent selection. More on ASOS in a sec.)
For another, if you are a sexual person (which not everyone is), there's something about privately sexualizing one's own body that is really empowering. Whether that means binders/tanks + men's briefs, or racy bras + boxers, or all out femme-lacy-glamour, displaying one's body for the benefit of a select audience (oneself, a partner, many partners) can feel awesome. Or even if you're not a sexual person, maybe knowing that you can choose your own undergarments–regardless of the pressures you feel to present a certain way when clothed, in a world that wants to sexualize you–can also feel empowering. I can't speak to the asexual experience, so I'll spend the rest of the time speaking personally about assuming a sexual experience.
Sometimes when my relationship with my body is at its worst, there is one force that can overpower my body shame: my sexuality. Engaging with said sexuality is a very empowering experience in my own body, whether alone or with a partner. For me to not just be okay getting naked, but to WANT to show off my body in undergarments I choose, which reflect my own personal beauty standards, is a pretty awesome experience.
---
Since I'm all over the gender maps (some days I bind, some days I go all lace and frills), I wind up doing gender very differently through my undergarments depending on the day. But while my external clothing is usually on the tomboy-femme region of the spectrum, my true feelings about my gender on a particular day are reflected by what I'm wearing underneath.
As far as my current selection: I own zero thongs (they are the makings of the devil), a couple plain bikini briefs, several lace-y but casual boyshorts, some boxer-briefs, and a few boxers (mostly for sleeping). The distribution is about 50/50 men's and women's underwear. I also own an even distribution of binders, sports bras, and underwire bras.
I'm typically for practicality, but lately I've gone in the pursuit of fun. I wrote once about how I love boxer-briefs, which are predominantly for men but I always pick femme-y patterns for them. Now I've gone in search of funderwear for women that also captures the level of androgyny I'm interested in exuding. But a lot of lingerie (especially sustainable eco-friendly brands, and especially androgynous brands) caters to A-C cups, is only available abroad, is perpetually out of stock, or is uber expensive. Maybe, if they're perpetually out of stock, there's a sizable market there that someone should take advantage of! Ever think of that?! And ALSO maybe more bigger-chested women want the option of not having pastel-colored lacy padded craziness?! Anyways.
I like masculinity some days, but other days I don't. But if I force myself to embody masculinity as my way of expressing androgyny, I'm not really being myself. So I'm looking for a better balance to express my gender in an androgynous manner.
So what does androgyny in lingerie even entail?? Best to defer to an expert on this one. The Lingerie Addict says this:
Much of the time, androgyny ends up being defined by absences. The "androgynous model" is often someone with no facial hair, minimal curves, no heavy musculature. To a degree, we "read" people's genders by running down a checklist of traits like these. Breasts? Probably female. Beard? Probably male. Both? Takes a little more figuring out. When we look at clothing, the ideas are more abstract. We look at fit, color, and design elements to get a sense of what gender the piece of clothing is oriented towards.

…

Lingerie that doesn't do the traditional girly moves, or lingerie that downplays feminine-coded parts of the body, definitely is part of my definition of androgyny. But there's another way for lingerie to be androgynous, and that's by not just minimizing gender, but by counterbalancing it.

Brands often create androgyny in their lingerie by adding masculine elements to a garment intended for women (or more rarely, the opposite: some feminine detailing on a garment intended for men.) Play Out includes a thick, labeled waistband on their underwear (a typically masculine feature), which they pair with tropical florals and abstract prints which are less gendered. Other companies use contrast piping and Y-fronts on underwear cut for women in order to give it a more androgynous feel.

But masculinity and androgyny are not the same thing. Some people will assume that if you're wearing all masculine underwear and happen to have two X chromosomes, that means that your lingerie look is androgynous. I don't think this is always true. Some masculine-of-center folks don't convey much androgyny in their looks at all: they look masculine, full stop. I think that the exact tipping point between androgynous and masculine (or androgynous and feminine) is a matter of taste and consensus, but often for a look to be androgynous, the wearer has to be balancing elements.
So either you can create androgyny by subtracting feminine qualities or by adding masculine qualities.
In the category of subtracting femininity, the stuff I tend to prefer includes:
Wider straps over thin straps.
Racerback/T-back over normal straps.
No bows, no frills, absolutely NO rhinestones.
Minimal lace; mesh is a nonoffensive alternative. Big cutouts and strappy details are awesome as well.
Color alternatives to black/white/red/pink, including more masculine/sporty colors like blues, greens, oranges, grays, and browns.
Anything but a push-up. PLEASE. DEAR GOD SAVE US FROM THE UBIQUITOUS PUSHUP. This can be surprisingly annoying, but there do seem to be more options these days.
And in the category of balancing:
Wearing something masculine on the bottom and feminine on top, or neutral on top and feminine on the bottom, or neutral and neutral. Eg boxer-briefs with a girly bra, or a sports bra with lacy underwear.
Wide thick straps and structure coupled with lace
Wide waistbands on feminine briefs
Lace in blue/green/orange/gray
Guy's shorts and a baggy hoodie with really girly underthings
The Lingerie Lesbian has some examples that I can get on board with. As does Autostraddle.
If you're curious, I've found a few affordable (ish) options to buy stuff, including a lot of Etsy shops. Encompassing a wide range of gender identities and expressions, here they are:
OrigamiCustoms on Etsy. My favorite on this list. They are great because they're eco-friendly, very androgynous in their styling, and also super queer friendly, with several non-boring unisex and genderqueer/trans* listings, for transmasculine or transfeminine folk. Also, they carry a binder in like a million colors!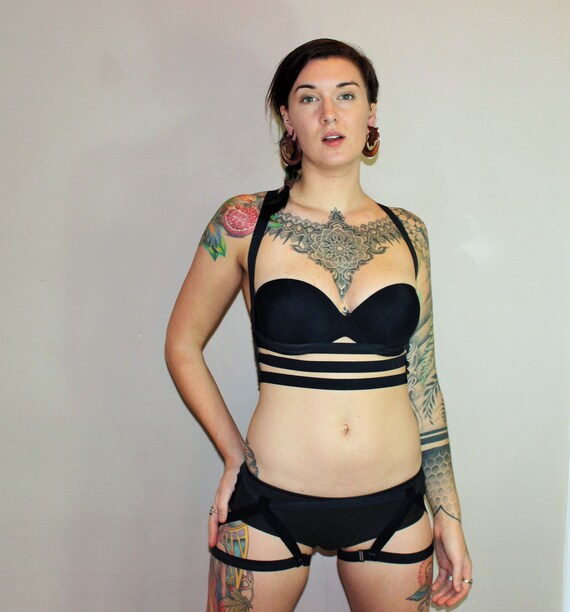 Majorey on Etsy, which have things like this blue/mesh sports bra. About as sexy-tomboy as you can get. They have some really sexy stuff period.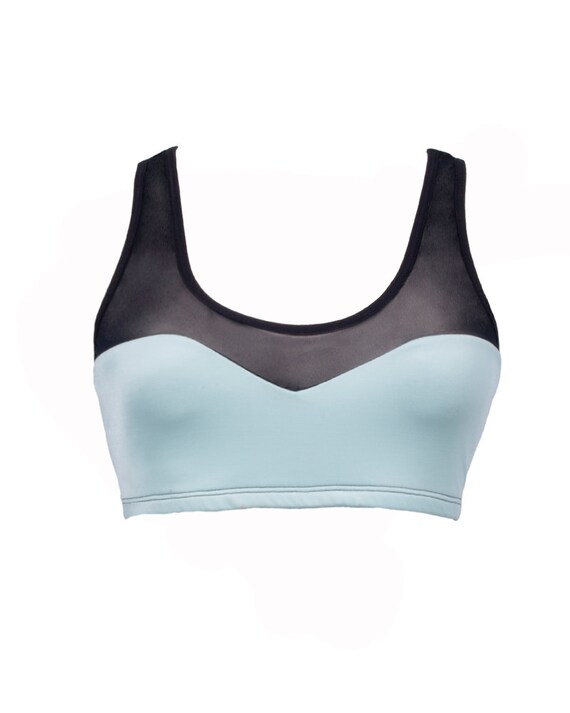 IHeartNorwegianWood on Etsy. I know, a lot of Etsy… it's where it's at! They carry lots of mesh, leather, strappy stuff, and even some non-black non-leather harnesses which is cool cuz you can wear it with any bra that suits your gender expression or even over clothing. Kindof a cool concept. Skews feminine, though with minimal frills or lace or pink. A really cool tomboy-femme aesthetic.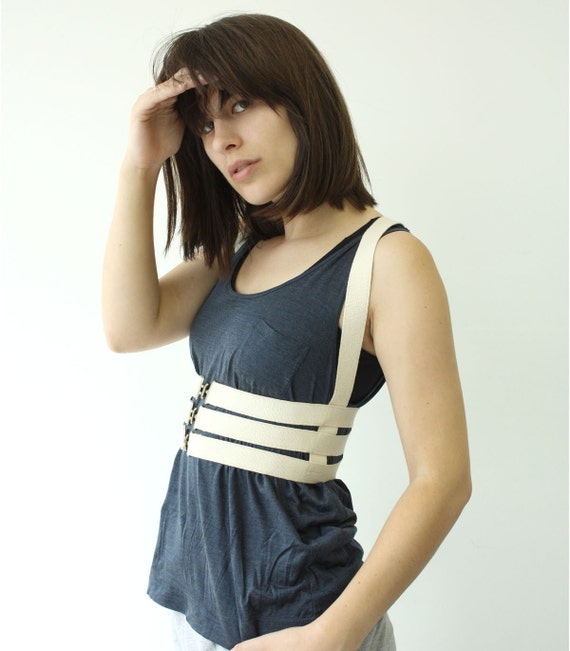 Other Etsy shops:
Foxers, a somewhat new shop that has everything from thongs to all-over lace boxers to boyshorts to boxerbriefs to men's boxers; and just like with Stonemen, the styling doesn't deviate too much between the "men's" and the "women's", just the cut. They also carry lace bras and sports bras and tanks. They're not my favorite aesthetic for some reason, but they're otherwise great and you should check em out.
If we're talking affordable, ASOS is the way to go, for masculine or feminine lingerie.

Starting on the masculine side, they have all these fun colorful boxers and boxer-briefs. I love when there are really sexy masculine options (like these) because honestly, are cis heterosexual men the only ones turned on by sexy underwear? Maybe if I hadn't hooked up with so many guys wearing stretched out, worn out boxers I would still be straight! (kidding!!) They also have non-sexy fun options like this polkadotted awesomeness. My favorite place for affordable masculine underwear.
As for tomboy stuff/masculine-styled undethings, they definitely deliver, with this and this. It's pretty great. They even carry some nice Nike sports bras (which I think are pretty ineffective for my rack of lamb, but hot/masculine-of-center and aesthetically pleasing nonetheless.
They also have a lot of kink-inspired but not full-on bondage-y stuff that is really hot. Call me a wimp but I don't feel like I gel with an all-leather harness or explicit bondage-wear; I do however love the straps and the risque styling of some of these pieces, which leave off lace and bows (I seriously think I'm allergic). See here and here and also here. Oh yeah, and they have some great fuller-bust options as well, and their sizes go up to a 40FF.

A practical but more femme option for bigger busts, Freya are awesome. So this one time when I had gone up a cup size yet again I went shopping with my mom for bras, and I bought a few of these, plus a couple cheaper DKNY/etc options. And of course, I hardly ever wore the cheap ones and stuck to the two Freya ones I bought. For underwire bras, they are tied with Calvin Klein in my book; yes they're pretty feminine but they have some inoffensive, fuller-coverage, basic, and sports-bra styles. They're kindof on the more expensive side, but they sometimes go on sale. Either way they don't really break the bank.
Last but not least, Bluestockings Boutique is a super inclusive online shop, where there's no such thing as "nude" colored bras because i mean, since when does everyone look like a bandaid? They also have binders and packing briefs as well as femme options. Check 'em out.
For other resources, check out The Lingerie Addict and The Lingerie Lesbian for amazing queer-inclusive body-positive feminist smart discussions of something that traditionally caters to the male gaze and to femme-of center women. It's pretty awesome.
Also, HerRoom has a (women's) lingerie guide for men! It looks like it caters more to cross-dressers in their language, but nevertheless it's very comprehensive for MAAB-bodied people, I think; correct me if I'm wrong. And they have reviews by male customers.
What are your opinions on underthings?