Ever since Tina said "duderuses" on Bob's Burgers I decided to use it all the time.
I won't tell you what time of the month it is because this is the internet but I'm eating a lot of chocolate and I feel fat and I'm turning into a monster, as all duderus-containing people are wont to do. We are all chocolate-eating fat-pants-wearing weepy messes for a whole week. RIGHT?! JKJK.
But seriously this chocolate is great. And I'm not wearing my fat pants but I'm wearing a big fuzzy hoodie. And I'm NOT TURNING INTO A MONSTER OKAY!?!
But seriously. I'm not eating chocolate. Even though it is great.
You know what else is great? The environment. In an effort to protect it, I use a bunch of hippie things. I used to have a Diva Cup, but it didn't ever work quite right for me, and when I couldn't get the stem clean (it's a hollow tube thing) I wound up tossing it because I'd been using it for 5 years and that is approximately a LOT in tampon years, so it did its part. So now I have the Lunette. It's a bluish color, no hollow stem, and it fits my anatomy pretty well. And it came in a blue bag instead of a magenta floral one… although when it comes to menstrual cups I don't care if the marketing is cutesy as long as it makes them un-scary enough for more women to want to use them.
I recently discovered this weirdo cup called the Femmycycle that I want to share. It looks like an alien condom slash mini terrarium slash itty bitty gold fish bowl. Has anyone used one of these? Curious! When I'm thru with the Lunette I'm thinking of trying this. Technological innovation in the menstrual cup department makes me SUPER EXCITED because it means people with brains talent money and resources are not afraid of our scary dudterus-having bodies.
Even though I don't mind frilly marketing if it gets people excited about using reusable menstrual products, I hate pink and white and swirly reusable pads because I have to look at that every time I have to pee. So I found a few for you duderus-having people who want something more gender-neutral, mostly on Etsy, like this navy blue set.
Or Johnny Depp: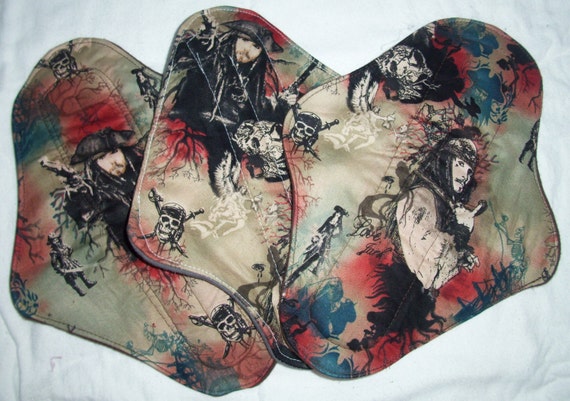 Anime fan? Cupcake fan? Cartoony clouds and paper airplanes? The Wings of Love Etsy shop has so many designs that are NOT pink and floral.
And I can't resist linking to this one, because everyone loves penguins. Everyone.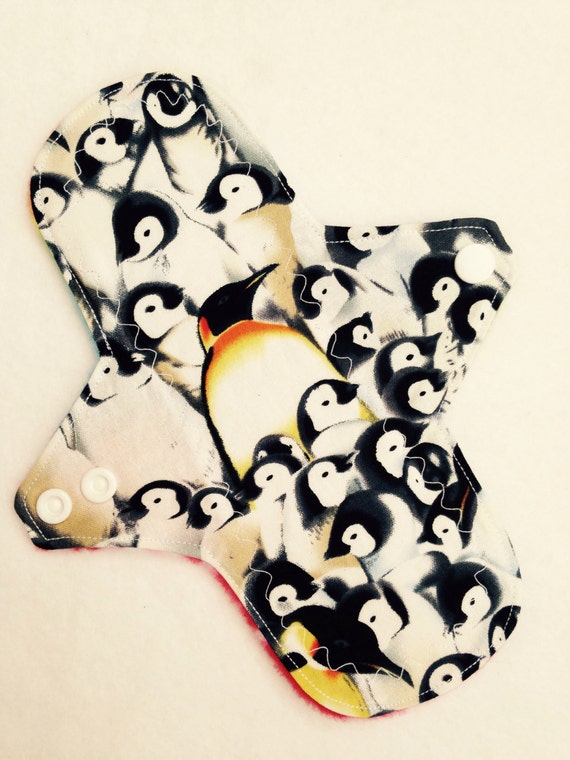 That shop also has themed ones, which I think is going a little too far: I'm having a period, I don't need to go all Martha Stewart and match my tablecloths to my pads. But maybe YOU want to express your love for thanksgiving or halloween.
Or maybe you hate your duderus and you want it to stop bleeding so to get back at the damn thing, you just want to let loose a bunch of spiders on it! Or spiderMAN! Or skulls and crossbones because everything is the worst!!
Wait. Wait. This… right here… has to be my favorite: a bloodspatter print reusable cloth pad!! I hope they bought the fabric that way…
Anyways these are just some of the ones I like for myself. There are artsy ones, comic ones, cutesy ones, patterned ones. Nothing particularly butch (except for this dapper gingham and this argyle number), but still… Etsy is way better for this stuff than anywhere else I've looked.
I wonder how many people will find this post by looking up "duderus".